Exciting new developments in paper packaging
So far, the trend in relation to flexible packaging has clearly been in favour of plastic, however, when it comes to sustainability, paper-based mono-solutions are far superior. Thanks to newly developed types of barrier paper, paper is becoming increasingly popular for flexible packaging in the food industry. For what type of applications are the new developments suitable and where is there still a need for action for a functional circulatory system? Read on to find out.
The majority of flexible paper packaging on the market involves laminated composites that are disposed of via collection systems for plastic packaging that can only be recycled by specialised companies.
For paper and cardboard, the waste paper cycle has proven successful. Therefore, it would be ideal if flexible barrier packaging made from paper could also be included in this material cycle. There are already some companies that have successfully accepted these materials into the recycling stream, proving it is possible.
The recycling industry however, must now ensure that a secure recycling stream is established so that these new sustainable paper solutions can be used on a large scale to maximise the circular economy potential of this raw material choice. At the same time, there needs to be continued willingness in the market to view paper packaging as a possible alternative to plastic packaging and to implement this gradually in packaging development.
Improved barrier layers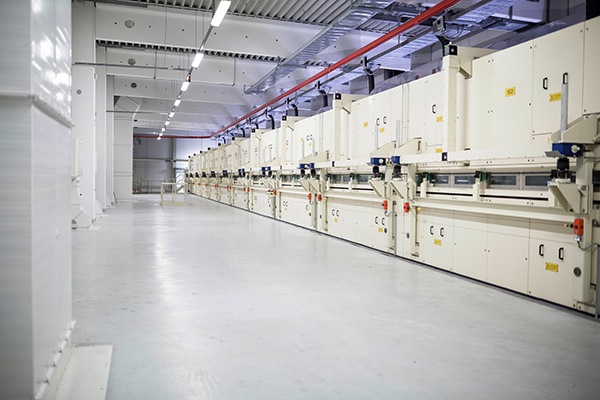 With this in mind, Sappi Europe began to expand its range of recyclable barrier papers around five years ago. 'Our service consists of the gradual implementation of market requirements and improvement of product properties. We are following a clearly defined and laid out strategy. From the beginning, the entire development aimed to create packaging paper with high barrier properties that are also recyclable,' explains Kerstin Dietze, Key Account Manager New Business Development at Sappi Europe. She adds: 'It is based on very comprehensive screening of materials and extensive test series on the coating system.' In parallel, Sappi looked for a collaboration with the paper manufacturer the Felix Schoeller Group, which met all the requirements on the production side and in terms of production expertise to apply multilayer dispersions to the paper web in one process step. The collaboration combines the expertise from production and sales, where Sappi provides access to the packaging market in addition to knowledge of materials.
"From the beginning, the entire development aimed to create packaging paper with high barrier properties that are also recyclable,' says Kerstin Dietze, Key Account Manager New Business Development at Sappi Europe, explaining the development of the product range.
Competitive solutions
In 2020, Sappi and Felix Schoeller launched the barrier paper AvantGuard, a second-generation development. It provides an alternative to first-generation PVDC-coated paper and is also recyclable. 'With AvantGuard, we can get up to the high barrier,' says Dr Knut Hornig, Senior Vice President Research & Innovation at the Felix Schoeller Group, describing the material properties of the newly developed, coated paper compound. In relation to barrier properties, the water vapour barrier is critical above all else. AvantGuard exhibits values below 1 g/m2/d (23°C and 50% relative humidity) at standard conditions and offers high barrier properties.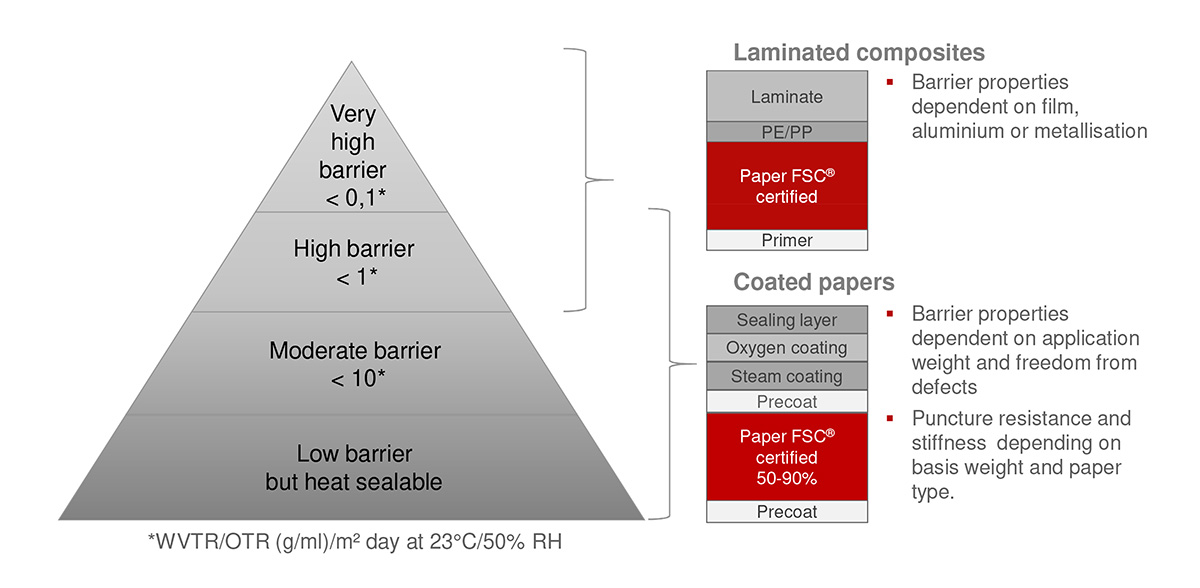 'With AvantGuard, we can get up to the high barrier,' says Dr Knut Hornig, Senior Vice President Research & Innovation at the Felix Schoeller Group, describing the material properties of the newly developed, coated paper compound.
The key factors in relation to the barrier quality of paper packaging are ensuring a uniform coat thickness and the absence of any defects during coating. The protective function of paper packaging itself depends on the resistance to perforation and the rigidity of the paper quality. The grammage of the paper plays a major role in this, as well as the type of paper used. AvantGuard is available in three grammages. These include 90 g/m2 and 100 g/m2 versions with a glossy coated print surface as well as a thinner 75 g/m2 version with a calendered, uncoated paper surface.
Manufacturing process
For the application of water-based dispersions, the curtain coating procedure, for example, is suitable, whereby various barrier coatings and the sealing layer are applied on the paper web in a single step. 'The coatings are applied in free fall to the paper web that runs underneath. It is important in this process that the coatings do not mix together. This means that the different coatings remain separated during the process due to the rheological properties and surface tension,' says Dr Hornig, explaining the challenges involved in the production process. The Felix Schoeller Group uses two of these units at its plant in Weissenborn, Germany.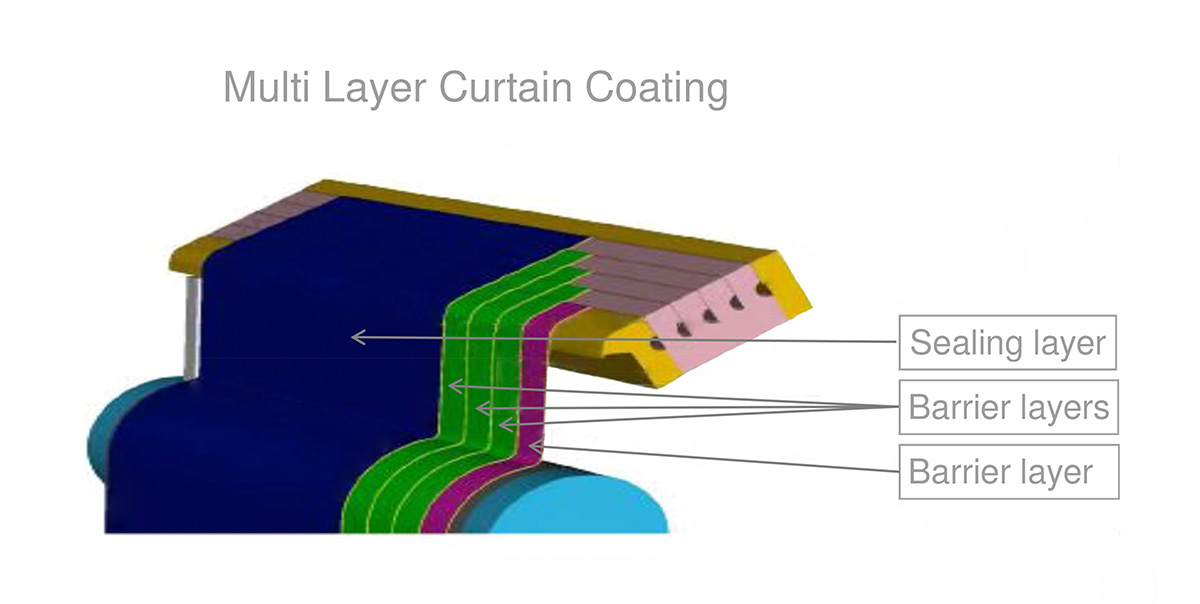 Markets for the newly developed barrier paper
The target markets for the new product generation are in applications where moderate to high oxygen, water vapour and grease barriers are required. 'There are new applications coming every day,' says Kerstin Dietze, describing the current market situation and the interest in barrier paper in the food industry. She lists two current examples: 'They are often used for confectionery goods, such as chocolate, chocolate products and muesli bars. Dry food products such as flour, sugar, pasta packaging and custard powder are packaged in these, along with bakery products and breakfast cereals. Sealable barrier paper is also increasingly being used to package tea bags. A new application is wrapping paper for stock cubes.
In the case of frozen foods, initial steps are being taken with ice cream. Development projects are being carried out with frozen goods, although barrier properties are not as much of a focus there. With frozen content, mechanical properties such as resistance to perforation are more important and the wet strength of the paper is important in the case of thawing. For each new application, we discuss the filling-related requirements in detail with the customer. Then, product tests are carried out, which the customers can evaluate based on their own standards.'
Disposal in material cycle
Paper-based packaging with high barrier properties contains up to 20% non-paper components due to the polymer coating. As result, their disposal is not regulated uniformly in Europe. For the consumer, the question when it comes to disposal is whether the packaging is paper, composite or a laminated composite and what is the right disposal system for the packaging?
In Germany, the PTS method 021/97 is typically used for determining the recyclability of paper. The national authority and the waste paper recyclers have defined a '5% rule', based on which paper with a content of more than 5% other matter may not be disposed of in the waste paper cycle (blue bin). In the United Kingdom, the OPRL is the scheme for the disposal of packaging, according to which 15% external content is still permitted, with plans to reduce this figure to 10%. In Italy, there is a different test method in the form of Aticela 501/19. Consequently, the Confederation of European Paper Industries (CEPI) has begun developing a standardised procedure with the working title 'Harmonised Recyclability Test Method' within the industry initiative '4evergreen'. It is supported by a number of well-known institutes. A uniform regulation throughout Europe is both beneficial and necessary, and would strongly promote the use of paper packaging.
Outlook
With market pressure and legislative demands for sustainable packaging solutions, interest in recyclable solutions for flexible packaging is growing in the food industry. Paper packaging with high barriers provides an alternative to plastic packaging in many fields. Product protection and shelf life of the food product must be guaranteed. Further product developments are being promoted by Sappi with the goal of developing packaging paper with high barrier properties, effective even in tropical conditions. At the same time, the proportion of renewable materials is to be increased to 100%.
In addition, the expansion of additional production capacities has already begun. At the beginning of the year, Sappi announced that it was introducing a new barrier coating technology for functional paper packaging at its speciality paper plant in Alfeld, Germany. The expansion of barrier coating capabilities means an increase in production capacity in order to serve the growing market with barrier paper.
Felix Schoeller is also working intensively on the development of new types of packaging paper. A key area of focus is sustainability. Over the next few years, the aim is, through a gradual process, to fully qualify materials made from renewable resources and still ensure the necessary protective properties for a wide variety of packaged goods.
Felix Schoeller Group
The Felix Schoeller Group, based in Osnabrück, Germany, was founded in 1895 and is a global family company. With more than 3,700 employees working at 19 locations in 11 countries, the company develops, produces and brings to market speciality papers for photographic applications, digital printing systems, the packaging market, self-adhesive applications, and for the furniture, wood-based materials and wallpaper industries. Barrier papers are produced for the packaging market at the company's plant in Weissenborn, Germany. Here, packaging papers with a wide range of barrier properties are produced using processes such as extrusion coating and curtain coating.
---
Source: Sappi
---